Fill out the Online Idea Form here!
Click here for a PDF Version of the form.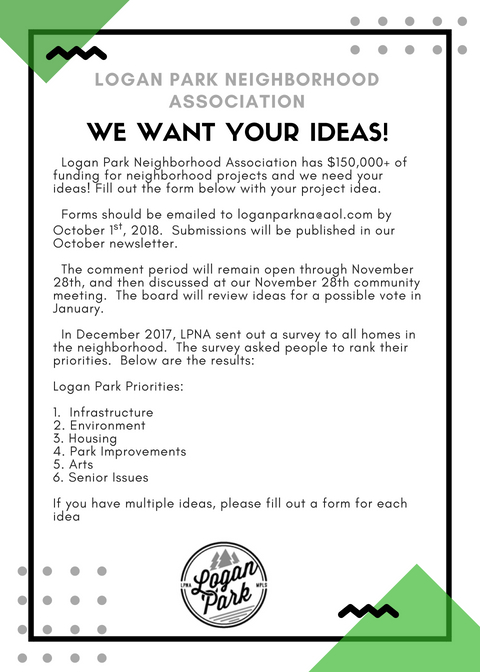 Survey Review: July 18th, 7pm @ Logan Park
The survey results will be reviewed and discussed at our July meeting.  We will discuss neighborhood priorities and open the floor for program and project ideas.
******************************************************************
Thank you to all who participated in the survey!
The Survey is now closed  and results are in:
The Top Three Priorities are:
Infrastructure
Environment
Housing
Logan Park Survey Summary (PDF)
Logan Park Complete Survey Results  (PDF)
Next Steps:
LPNA will use the results to prioritize our funds.  We are opening up the July meeting to hear your ideas!  Ideas will be discussed further at a fall meeting and a committee will identify resources needed for each project and bring to the board for approval.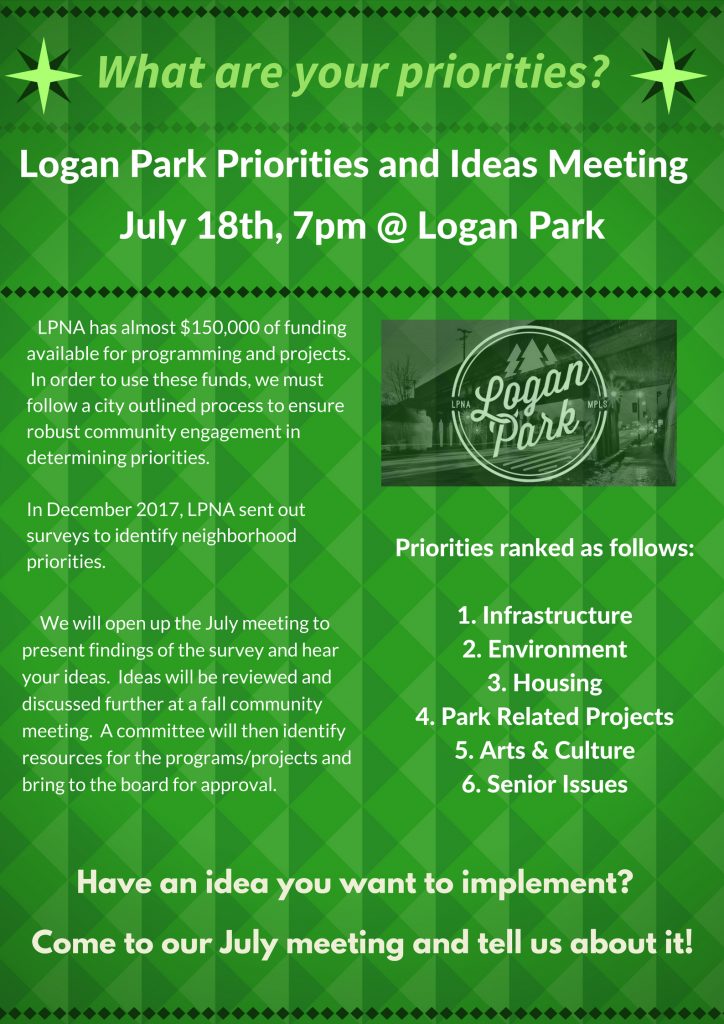 ******************************************************************************************

¿Cuáles son sus prioridades?
Logan Park wants to hear from you, please take our survey!  ¡Tome nuestra encuesta!
Why we are conducting this survey:
Logan Park Neighborhood Association (LPNA) is the city-recognized neighborhood organization and receives funding from the Neighborhood Revitalization Program (NRP) and the Community Participation Program (CPP).
We are surveying the entire neighborhood for ideas and suggestions on how to prioritize our NRP and CPP funds.
Results from the Surveys will be reported at LPNA meetings, in the LPNA newsletter and on the website. LPNA Board of Directors will review the surveys for suitability.
Por qué estamos realizando esta Encuesta:
Logan Park Neighborhood Association (LPNA) es una organización reconocida por la cuidad, y recibe fondos del Neighborhood Revitalization Program (NRP) y del Community Participation Program (CPP).
Estamos encuestando por todo el vecindario para ideas y sugerencias sobre cómo debemos priorizar nuestros fondos de NPR y CCP.
Los resultados de las encuestas serán reportados en juntas del LPNA, en el boletín informativo del LPNA, y en la página electrónica. El Consejo Directivo de LPNA revisará las encuestas para idoneidad.
LPNA PROJECTS FUNDED BY NRP/CPP
Home Improvement Matching Grants
Revolving Loan Program
Emergency Grants
Block Nurse Program
Historic Style Street Lights
Park Upgrades
Arts & Culture Programs
Central AvenueSignage
Jax Flats
Ethnic Film Festival
Block Studios
Circo Bus