Thank you to everyone who provided feedback on the Ideas!
Email additional comments to [email protected]
Timeline:
Priorities Survey (December 2017)
Ideas Brainstorming Session (July 2018)
Idea Submission (September -November 2018
Next Steps:
Idea Committee presents a package of ideas to LPNA Board (Winter 2019)
Board Approves (Winter 2019)
Package is presented to neighborhood (Spring 2019)
__________________________________________________________________________
Logan Park Ideas and Priorities Meeting
November 28th, 6:30 pm @ Logan Park Rec Center
LPNA has collected ideas in order to spend the city funds currently available to us.
Join us on November 28th to give feedback on these ideas and participate in a straw poll!
The committee will then review the feedback and present a package of funding recommendations to the neighborhood at the February community meeting.


***************************************************************************
10/2/18 Update
Logan Park Neighborhood Association (LPNA) is collecting ideas from the neighborhood in order to use the city funds currently available to us.
Folks with ideas are encouraged to present at our November 28th community meeting.  Everyone is invited to discuss and review these ideas.
LPNA Community Meeting: Ideas Review, November 28th, 6:30pm @ Logan Park Rec Center.
These are the ideas that have been submitted to us so far, the comment period remains open through November 28th.
Thank you to everyone who has submitted an idea!  
Ideas:
 Indoor slacklines at Logan Park Rec Center.  Slacklining is like walking on a tightrope with less tension.

Curb Appeal Program.  Start a grant program for Logan Park neighbors to upgrade the front of home.

Gathering Fires.  Create 3 community gathering fires along 13th, one at Logan Park, and 2 between University and 4th.

One Way Streets. Make the neighborhood more accessible by implementing one way streets, leaving the avenues as they are.

Timber Framed Park Pavilion for the park.

Footbridge over 14th Ave NE rail line.

Sidewalk Improvements.  Replace buckled and sunken sidewalks

 Street Light Improvements.  Add the fancy street lights to Monroe and Washington.

Crosswalks across 13th by the park.

Rake the Town, an event to rake seniors' yards.


Apiary at Elim Church Roof.  Build a small apiary on the rooftop of Elim church that would serve the many flower beds in the neighborhood. 

Junior Ambassador Program.  Create a program to bring young adults to neighborhood meetings


NE Tool Library.  Add a keyless entry system to the Thorp building location.

Connecting stairs and sidewalk from Central Ave to 15th Ave NE.

Paint the Pavement.  Install artwork on 13th Ave NE near Logan Park.

Logan Park Exercise Equipment.  Public outdoor equipment and exercise stations. 

Holland Highrise Improvements.  Landscaping, benches, or music series on the patio.


45th Parallel Markers.  Place markers where the 45th parallel runs through the park and the neighborhood.

Aging in Place.  Classes, workshops, and field trips to stay in your community.

Outreach Program.  Hire a community outreach person to connect and inform residents through door knocking and outreach events.  
Lighting Project.  Install artistic lighting at both the north and south ends of the park.
Murals added around Logan Park
Program to fertilize boulevards in Logan Park
Program to add air quality monitors to the neighborhood
Want to comment on these ideas?  Tell us about it at [email protected]
Have your own idea?   Submit it via our website:  https://loganparkneighborhood.org/logan-park-ideas-form/
******************************************************************************************
Fill out the Online Idea Form here!
Click here for a PDF Version of the form.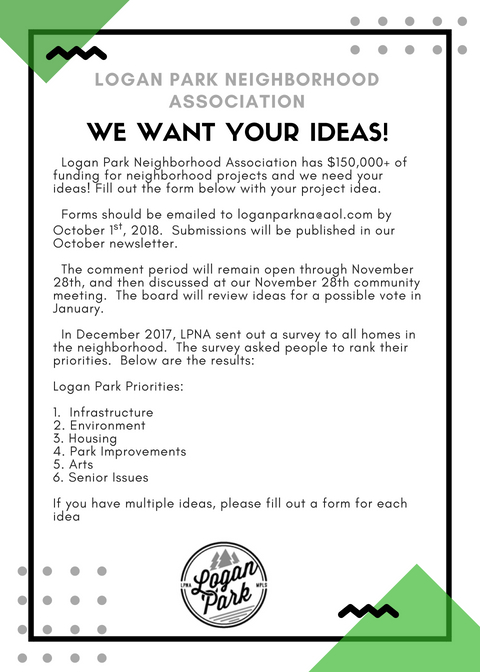 Survey Review: July 18th, 7pm @ Logan Park
The survey results will be reviewed and discussed at our July meeting.  We will discuss neighborhood priorities and open the floor for program and project ideas.
******************************************************************
Thank you to all who participated in the survey!
The Survey is now closed  and results are in:
The Top Three Priorities are:
Infrastructure
Environment
Housing
Logan Park Survey Summary (PDF)
Logan Park Complete Survey Results  (PDF)
Next Steps:
LPNA will use the results to prioritize our funds.  We are opening up the July meeting to hear your ideas!  Ideas will be discussed further at a fall meeting and a committee will identify resources needed for each project and bring to the board for approval.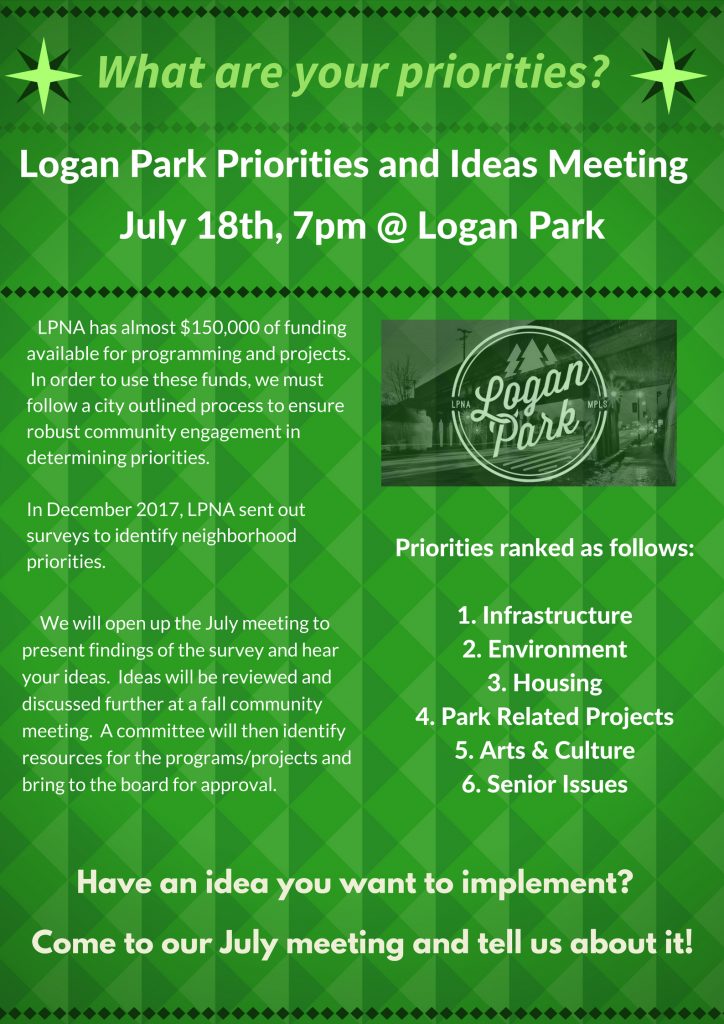 ******************************************************************************************

¿Cuáles son sus prioridades?
Logan Park wants to hear from you, please take our survey!  ¡Tome nuestra encuesta!
Why we are conducting this survey:
Logan Park Neighborhood Association (LPNA) is the city-recognized neighborhood organization and receives funding from the Neighborhood Revitalization Program (NRP) and the Community Participation Program (CPP).
We are surveying the entire neighborhood for ideas and suggestions on how to prioritize our NRP and CPP funds.
Results from the Surveys will be reported at LPNA meetings, in the LPNA newsletter and on the website. LPNA Board of Directors will review the surveys for suitability.
Por qué estamos realizando esta Encuesta:
Logan Park Neighborhood Association (LPNA) es una organización reconocida por la cuidad, y recibe fondos del Neighborhood Revitalization Program (NRP) y del Community Participation Program (CPP).
Estamos encuestando por todo el vecindario para ideas y sugerencias sobre cómo debemos priorizar nuestros fondos de NPR y CCP.
Los resultados de las encuestas serán reportados en juntas del LPNA, en el boletín informativo del LPNA, y en la página electrónica. El Consejo Directivo de LPNA revisará las encuestas para idoneidad.
LPNA PROJECTS FUNDED BY NRP/CPP
Home Improvement Matching Grants
Revolving Loan Program
Emergency Grants
Block Nurse Program
Historic Style Street Lights
Park Upgrades
Arts & Culture Programs
Central AvenueSignage
Jax Flats
Ethnic Film Festival
Block Studios
Circo Bus