Sarah, Shawna, and Claudia are preparing for the upcoming tax season because tax time can be one of the most important moments in the financial lives of low- and moderate-income households.

That's why they signed up for Taxes 101, which starts next week. They want to brush up on their basic tax knowledge so they have relevant information and resources to help the people in their community make the most of tax time. Join Sarah, Shawna, and Claudia at a Taxes 101 training this month!

Find a training that works for you!

In-Person Trainings: Two-hour trainings are starting next Tuesday and running until January 24 in Minneapolis, Rochester, Mankato, Duluth, St. Cloud, and Moorhead. You'll learn from staff who manage free tax preparation sites and University of Minnesota Extension financial educators about tax-time resources.

Webinars: If you can't make an in-person training, join a webinar at noon on January 12, 19, or 26. The three webinars include Tax Basics, Leverage Tax Time and Community Resources, and Resources for Parents, Divorced Parents, and Never Married Adults Claiming Child.

The trainings are free and the webinars will be recorded. CEUs for Social Workers and Accredited Financial Counselors are available.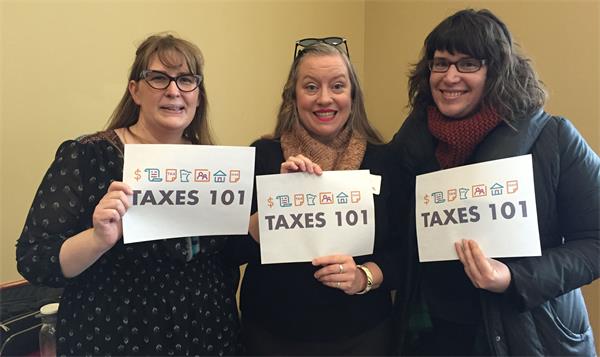 From left to right: Sarah Butler, University of Minnesota Extension, Shawna Thompson, University of Minnesota Extension, and Claudia Holt, EMERGE Community Development.