"Neighborhood of Raingardens" Program Offered for Logan Park Property Owners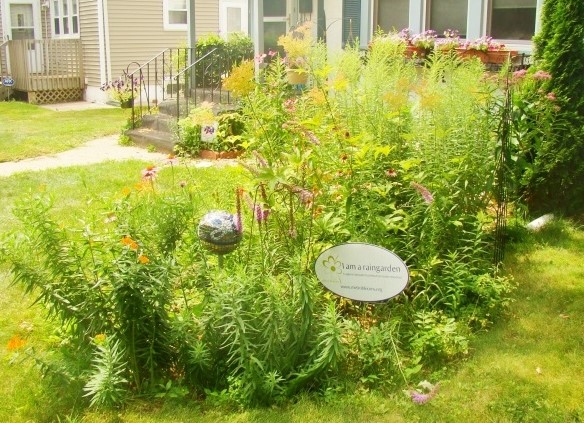 Want to do your part to improve the watershed that feeds our lakes?  Raingardens are beautiful landscaping features that protect water quality and provide habitat for pollinators.  They use native plants and allow rainwater runoff to filter through the soil instead of flowing into storm drains and directly into our lakes and rivers.
This summer, the Logan Park Neighborhood Association and Metro Blooms are teaming up to help neighborhood property owners install raingardens by lowering the cost and doing the most difficult job, excavating the gardens and hauling away the dirt. Up to 12 properties in Logan Park will receive an onsite consultation and raingarden design from Metro Blooms.  Property owners only pay $50 for their consultation and the neighborhood association will be providing the majority of funding. The property owner will receive a raingarden design and installation (including labor, hauling away soil, mulch, and compost) for approximately $300-$450 (varies with size of raingarden).
Interested property owners can contact Logan Park at [email protected] to put your name on the list for an onsite consultation with a landscape designer during the summer of 2018.  Please submit your interest by July 1st, 2018.  If more than 12 people are interested, a lottery will take place at the July 18th community meeting.  The consultation includes identifying runoff conditions on your property, taking measurements, determining the appropriate size for your raingarden, and selecting plants.
The raingardens will be constructed by Metro Blooms and the Conservation Corps of Minnesota in September 2018.  Metro Blooms will order the plants, and property owners will be responsible for planting their raingarden.  Metro Blooms will also provide supplemental information and follow-up related to maintenance of the new raingardens. Raingardens can be a maximum of 150 square feet.
If you have any questions, feel free to contact Jennifer at Metro Blooms at [email protected]