Updates 11.2.21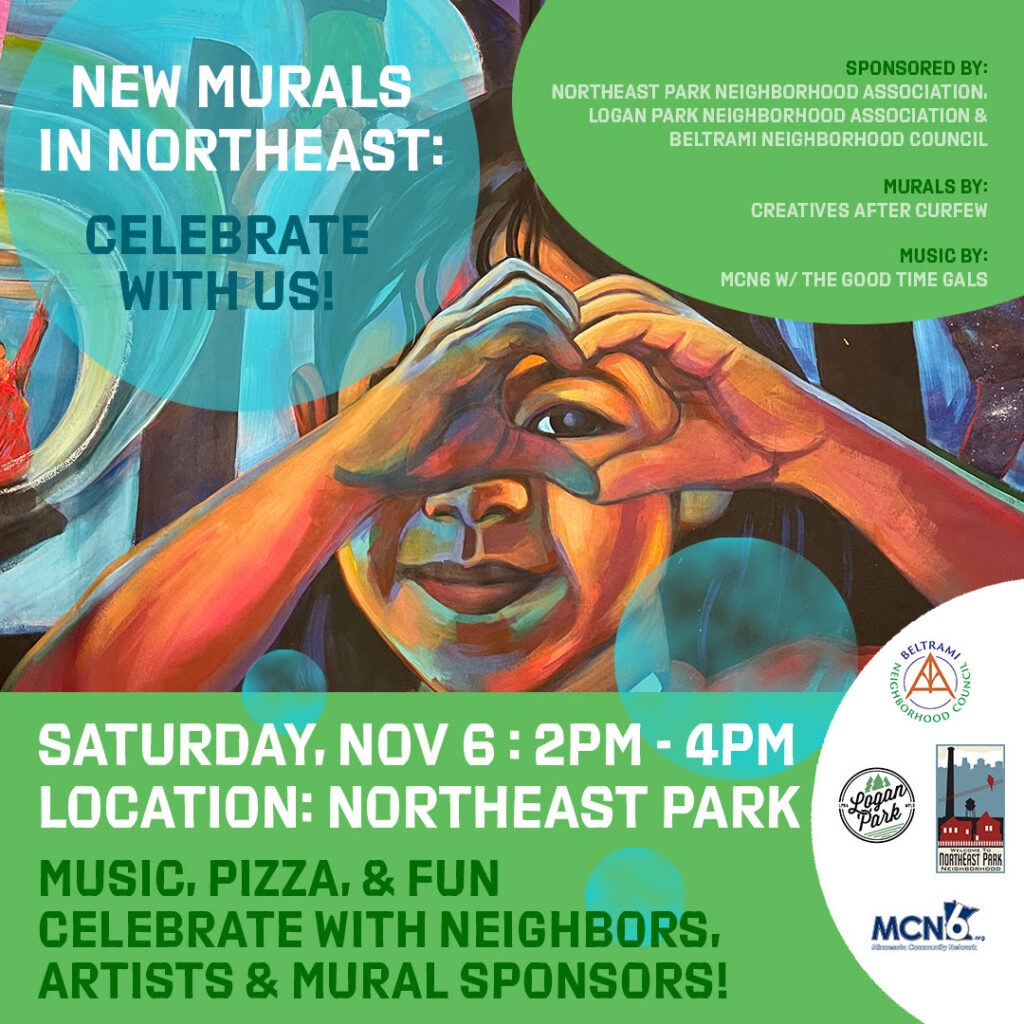 Mural Celebration Event
New murals are complete at Beltrami Park, Logan Park, and Northeast Park! Join the Minneapolis Park and Recreation Board (MPRB), BNC, LPNA, NEPNA, and your Northeast neighbors and public art appreciators for a Grand Unveiling Event at Northeast Park on Saturday, Nov. 6, 2-4 pm!
The event will feature live music, entertainment, food, and drink for everyone to enjoy! The celebration will be held next to the mural painted on the exterior of the restroom building along 14th Avenue NE, between Pierce and Buchanan Streets NE.
About the Murals
The murals were designed and painted by Northeast Minneapolis-based Creatives After Curfew. Artists include Maiya Lea Hartman, Leslie Barlow, Maria Robinson, Clau Valentino, Silent Fox, Thomasina Topbear (City Mischief), with coordination by Taylan De Johnette and Tricia Heuring.
Details were based on community engagement done by the artists and neighborhood organizations. Each mural highlights people, diversity, equity and inclusion in Northeast Minneapolis, while reflecting the identity, personality and uniqueness of each neighborhood. MPRB staff applied an anti-graffiti coating on top of the murals after they were completed.
Logan Park mural is located on the south-facing wall of Logan Recreation Center. Sponsored, funded and maintained by Logan Park Neighborhood Association.
Beltrami Park mural is located on the north-facing wall of the main park building, next to the playground and wading pool. Sponsored, funded and maintained by Beltrami Neighborhood Council.
Northeast Athletic Field Park mural is located on the restroom building just north of 14th Avenue NE, between two baseball fields. The design wraps around all four exterior walls. Sponsored, funded and maintained by Northeast Park Neighborhood Association.
Logan Park Murals

Check out the LPNA Sponsored murals at the Logan Park Recreation Center (690 13th Ave NE) and Artspace Jackson Flats (901 18 1/2 Ave NE
______________________________________
Mural Program, 2021
LPNA has identified public art as a neighborhood priority. LPNA is working with Beltrami and NE Park Neighborhoods on a mural program for 2021. The first secured space is Jackson Flats Building, 901 18 1/2 Ave NE, Minneapolis, MN 55418.
Jac Flats Mural
The RFQ for submissions for the mural at the Jac Flats building have gone out (see below). Artspace sent out to the artists in Jac Flats first and then the artists in their other spaces/communities. After March 25, 2021, we will convene representatives from LPNA and Artspace to review the submissions and narrow it down to 3 muralists.
RFQ
Stipend – $5,000 total (for artist, materials, maintenance etc.)
Logan Park Neighborhood Association invites experienced public artists/teams to submit qualifications for the design and installation of a unique mural at Artspace Jackson Flats located at 901 18 1/2 Ave NE, Minneapolis, MN 55418. We would like to bring a message of community and racial justice, with a focus on equity, diversity, and inclusion to this project. The mural will engage and help to enrich the neighborhood with public art.
Qualifications or requirements
This Request for Qualifications (RFQ) is open to experienced Minnesota-based public artists/teams. Priority will be given to Minneapolis artists/teams, artists from the BIPOC community, and those who have mural experience. Applicants are welcome from the state of Minnesota and should have an understanding of or experience with murals and public art installations that address racial justice, equity, diversity, and inclusion. Applicants must be willing to work through a community engagement process for design and implementation.
How to apply
E-mail following materials to [email protected] by end of day March 25, 2021.