2019 Monroe Street Safety Results
Survey Summary
Conducted summer of 2019

Surveys were submitted either via paper or google doc

Surveys were available in English, Spanish, and Somali 

186 responses
Street safety summary
View full survey comments here.
Original Survey
Results
What are your concerns about Monroe St. NE?
Speeding 51.9%

Danger to pedestrians crossing Monroe 48.7%

Danger to bicyclists 44.9%

Deteriorating Sidewalks 44.4%

Traffic flow/amount 29.9%

Lack of curb/sunken curb 26.2%

Street lighting 23%

Danger to pedestrians walking along Monroe 21.9%

Parking 20.9%

All of the above 10.2%

None of the above 2.7% 

Other: 

Drivers going through stop signs without stopping or only slowing down without a full stop

Rolling stops at stop signs- especially Monroe and 13

th

People running stop signs on 13th and 15

th

Hard to see stop signs (parking to close stop signs)

Sidewalk is very narrow and should be wider

Lack of buffer between sidewalks and cars

Very narrow sidewalks! Doesn't feel safe with folks speeding down. But luckily cars parked along the side as a buffer so it feels safer.

Snow shoveling issues in winter. Very narrow this year and buses had trouble turning onto street off of Broadway

allowing parking on the west side of the street. it should be removed

littering

enforcing shoveling in winter

Turning Left onto Broadway going Southbound sometimes takes several green lights during busy time

Railroad bridge lighting

Danger from bike and scooter drivers

Lack of development. Investment in the neighborhood.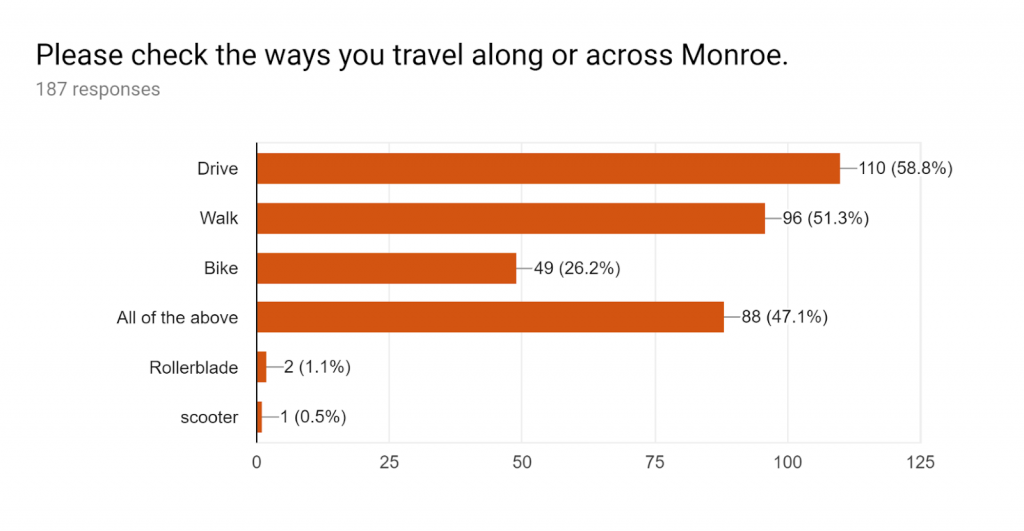 Survey takers were also asked to share if they have witnessed or been part of a safety incident on Monroe? 
72 of the 186 please responded with some story of a safety incident
Survey takers were also asked to share if they had other safety concern for Monroe?  
57 of the survey takers had another safety concern 
The stories and safety concerns shared by survey participants mostly fell into these categories:
| | |
| --- | --- |
| Category | Number of examples |
| Accidents: car, bike, pedestrian, property | 26 |
| General safety concerns | 24 |
| Stop sign concerns: running, rolling stops, not stopping for pedestrians, parking too close to stop signs | 24 |
| Traffic: volume and speed | 18 |
| Pedestrian safety | 17 |
| Bike safety/concerns | 14 |
| Parking concerns | 11 |
| Sidewalk concerns | 6 |