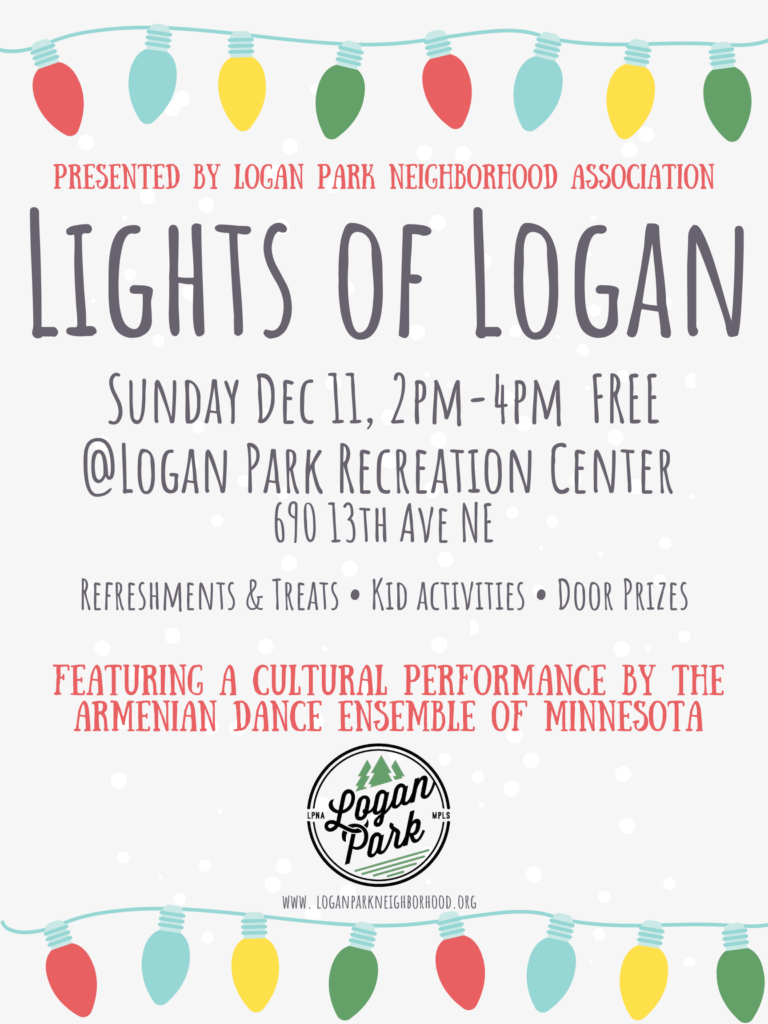 Lights of Logan Celebration at the Park
Sunday December 11, 2022 2pm-4pm
Join us at the Logan Park Recreation Center for a live performance by the Armenian Dance Ensemble of MN, followed by refreshments, treats, kid activities, a free giveaway, and door prizes! Grand prize is a Fairbault blanket!
Lights of Logan Lighting Contest
Join your neighbors in lighting up the neighborhood on Sunday December 11, 2022! If you would like to be considered for judging, have your lights on by 5:00 pm. Winners will be announced in the January 2023 issue of the Logan Ledger.
Best luck to all!
__
Luces de Logan
EVENTO GRATUITO, el domingo 11 de diciembre, de 02:00 p. m. a 04:00 p. m., en Logan Park Recreation Center. Habrá chocolate caliente, bocadillos, actividades para niños, regalos y premios con el número de entrada.
Concurso Luces de Logan
El domingo 11 de diciembre de 2022, ¡ilumine todo el vecindario junto a sus vecinos!
Si desea concursar, encienda las luces de su casa antes de las 05:00 p. m. Se anunciará a los ganadores en la edición de enero de 2023 del Logan Ledger. ¡Les deseamos mucha suerte a todos!
__
Nalalka Logan
Axada Diseembar 11, 2pm-4pm Cabitaannada BILAASHKA ah ee Xarunta Baashaalka ee Logan Park. Nagalasoo qaybgal Xarunta Damaashaadka ee Logan Park oo lagu qabanaayo bandhig ay toos u samaynayaan Golaha Dheesha Dhaqanka Armenia ee Minnesota.
Bandhiga Nalka ee Nalalka Logan
Kalasoo qaybgal dariskaaga iftiiminta xaafada maalinta Axada ah Diseembar 11, 2922!
Haddii aad doonayso in gudiga lagugu daro, soo diyaarso nalalkaaga 5:00 pm. Dadka guulaysta ayaa la shaacin doonaa Janaayo 2023 marka lasoo saaro galka xisabata ee Logan. Nasiib wacan dhammaantiin!
__
Cov Teeb ntawm Logan
Hnub Sunday lub Kaum Ob Hlis tim 11, thaum 2 teev tsaus ntuj txog 4 teev tsaus ntuj PUB DAWB ntawm Cov Kev Lom Zem Ntawm Logan Park Recreation Center (Lub Chaw Ua Si Logan)  Koom peb nyob rau ntawm Logan Park Recreation Center rau ib qho kev ua yeeb yam hauv live los ntawm Pab Pawg Seev Cev Armenian ntawm Minnesota !
Co Teeb ntawm Kev Sib Tw Teeb Cig Hauv Logan (Logan Lighting Contest)
Koom koj cov neeg nyob koom zej koom zos nyob rau kev taws teeb rau lub zej zog nyob rau hnub Sunday lub Kaum Ob Hlis tim 11, 2022!
Yog tias koj xav kom koj raug muab tso rau kev txiav txim ces taws koj cov teeb tsis pub dhau 5:00 teev tsaus ntuj. Cov neeg muaj yeej yuav raug tshaj tawm nyob rau tsab ntawv tshaj tawm lub Ib Hlis Ntuj xyoo 2023 ntawm Phau Ntawv Teev Npe Hauv Logan (Logan Ledger). Thov kom txhua leej muaj hmoo tshaj plaws!