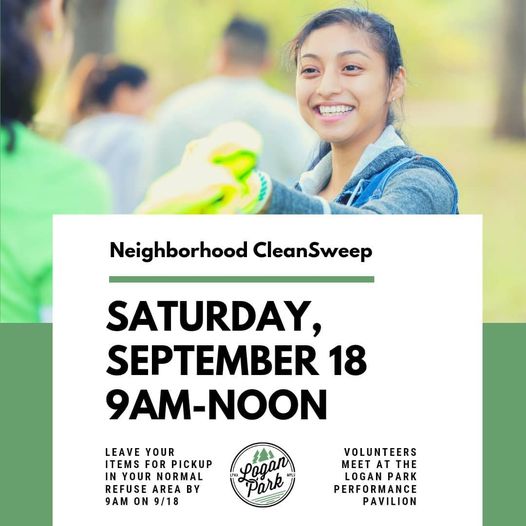 CleanSweep is Back! September 18, 2021 9AM-NOON
Logan Park Neighborhood Association has held a neighborhood CleanSweep almost every year for a quarter of a century. After last year's hiatus, we're back at it! And we need your help! Join us Saturday, September 18 from 9AM to noon. It's sure to be a fun, community event that truly makes a difference! Plan to wear light or brightly colored, protective clothing as well as gloves and hard-soled shoes with good ankle support. Sunscreen is encouraged as we'll be outside for the duration of the CleanSweep. A long-sleeved top and long pants are recommended.
The Minneapolis CleanSweep program is a partnership effort between Solid Waste and Recycling and the Logan Park community to help clean up your neighborhood. The entire community can clean out garages, sheds, attics, basements, yards, alleyways and boulevards leaving your area sparkling! Leave your items for pick up in your normal refuse area by 9AM on September 18.
ACCEPTABLE ITEMS include: arm chair, ashes-cold (double bag), clothing (unusable rags) couch, (under 50% metal – no hide-a-bed), carpet, dresser, end table, food scraps furniture parts, glass-broken (double bag, paper, then plastic), household garbage, litter, pet droppings (double bagged), polystyrene foam, saw dust (double bagged), storm doors-wood, venetian blinds, wood storm windows, wood chairs, wood table.
We need volunteers! Volunteers should meet at the Logan Park Performance Pavilion at 8:45 am on September 18th. Volunteers will be provided coffee,donuts, and lunch!