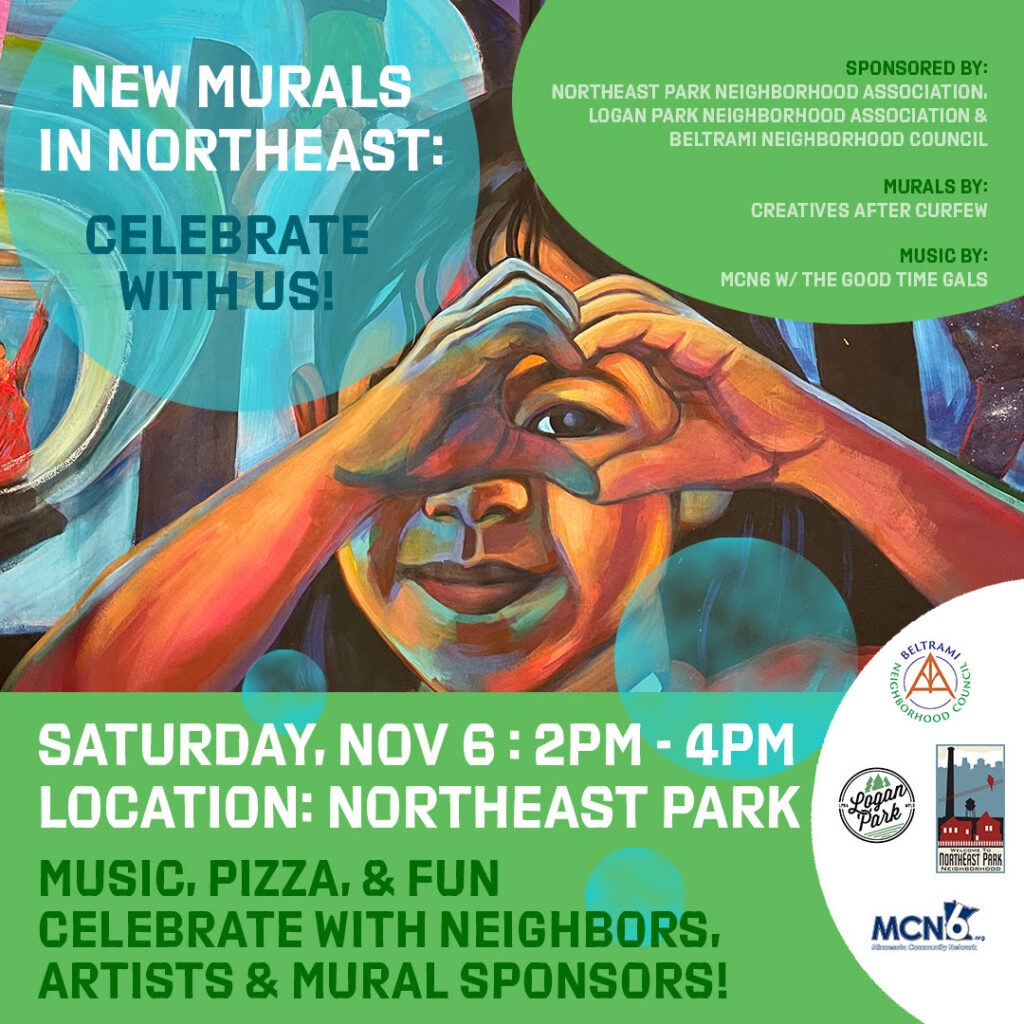 Mural Celebration Event
New murals are complete at Beltrami Park, Logan Park, and Northeast Park! Join the Minneapolis Park and Recreation Board (MPRB), BNC, LPNA, NEPNA, and your Northeast neighbors and public art appreciators for a Grand Unveiling Event at Northeast Park on Saturday, Nov. 6, 2-4 pm!
The event will feature live music, entertainment, food, and drink for everyone to enjoy! The celebration will be held next to the mural painted on the exterior of the restroom building along 14th Avenue NE, between Pierce and Buchanan Streets NE.
About the Murals
The murals were designed and painted by Northeast Minneapolis-based Creatives After Curfew. Artists include Maiya Lea Hartman, Leslie Barlow, Maria Robinson, Clau Valentino, Silent Fox, Thomasina Topbear (City Mischief), with coordination by Taylan De Johnette and Tricia Heuring.
Details were based on community engagement done by the artists and neighborhood organizations. Each mural highlights people, diversity, equity and inclusion in Northeast Minneapolis, while reflecting the identity, personality and uniqueness of each neighborhood. MPRB staff applied an anti-graffiti coating on top of the murals after they were completed.
Logan Park mural is located on the south-facing wall of Logan Recreation Center. Sponsored, funded and maintained by Logan Park Neighborhood Association.
Beltrami Park mural is located on the north-facing wall of the main park building, next to the playground and wading pool. Sponsored, funded and maintained by Beltrami Neighborhood Council.
Northeast Athletic Field Park mural is located on the restroom building just north of 14th Avenue NE, between two baseball fields. The design wraps around all four exterior walls. Sponsored, funded and maintained by Northeast Park Neighborhood Association.